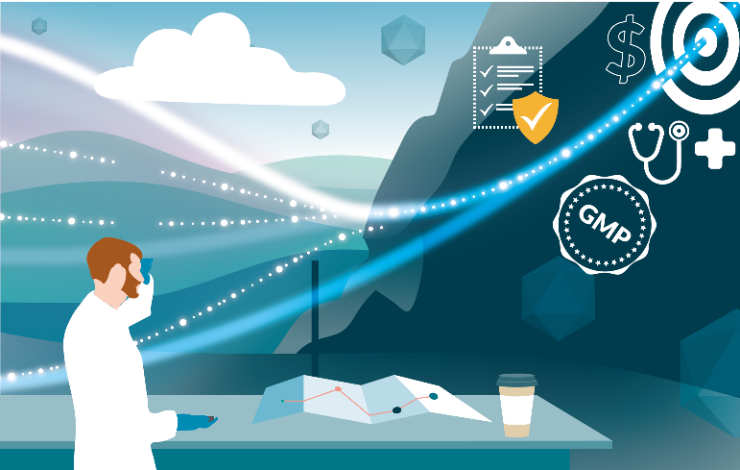 AAV is one of the most commonly used viral vectors in gene therapy and is typically manufactured by triple transfection of HEK293 cells. Although this method is widely used and has an extensive clinical track record, there remain a number of challenges in getting an AAV product to the clinic. These challenges include long development timelines, difficulty in securing critical raw materials such as plasmids, and bottlenecks with QC testing and product release.
To overcome these challenges, Charles River has established the nAAVigation™ platform process for AAV production that has the capability to cut a viral vector gene therapy program's timeline to GMP by 55% versus traditional process development. This platform incorporates in-house plasmid production, standardized vector manufacturing, 100% in-house analytics, and secured and simplified supply chain to accelerate the path to GMP and to clinic. The nAAVigation™ platform is based on a proprietary high-productivity HEK293 suspension cell line and extensive experience with production of multiple AAV serotypes carrying a range of therapeutic trans-genes at a range of production scales.
This webinar will give an overview of AAV production challenges and how they can be overcome by leveraging an integrated platform approach bringing together plasmid production, vector production, analytical testing, and a simplified and secured supply chain. Support data collected from a range of production runs will be shared demonstrating the nAAVigation™ platform's ability to predictably scale AAV vector material without the need for substantial process development.
In this webinar you will learn:
The challenges facing clinical-grade AAV manufacturing
The value of having in-house, phase-appropriate plasmid manufacturing
How a platform approach to AAV manufacturing can accelerate the path to GMP and to the clinic
The value of standardizing QC methods for gene therapy product release