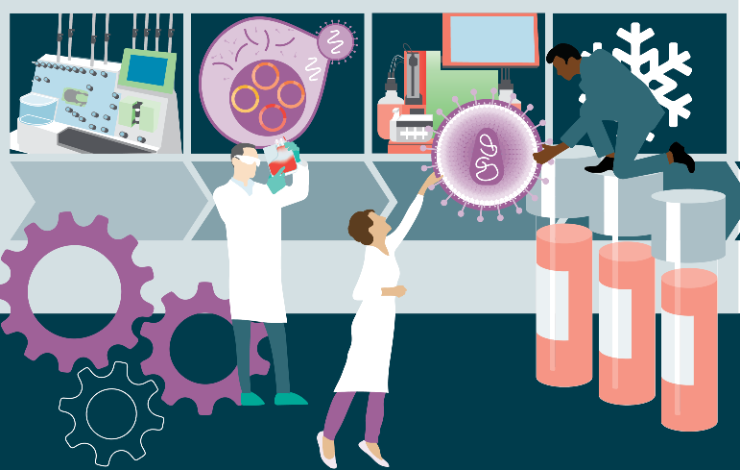 Lentiviral vector (LV) is a proven technology for cell and gene therapies, yet many process and manufacturing hurdles still exist in working with full service CDMOs (contract development and manufacturing organizations). Robust process development is still a requirement in many industry segments, and there's the need of developing phase-appropriate analytical processes in addition to gaining extensive process knowledge. On top of the time and repetition that it takes to tackle those elements, there are various lead-times developers need to take into consideration – such as those associated with raw material procurement, unparallel project activities, and time to deliver consistent manufacturing output.
It's typical to use more than one CDMO to reach commercial manufacturing, yet cell-based therapeutic development in any setting requires reliable workflows, sufficient production capacity, quality oversight, transfer plans, and comprehensive regulatory support. Many organizations manufacture GMP LV, but only a few can offer commercially relevant LV and a path to it. A change in LV manufacturer during development is detrimental; extending timelines and project complexity via tech transfer, comparability studies, and regulatory amendments. Miltenyi offers solutions carefully engineered for unique cell therapies with gene therapy workflows. To support this, our new LV production facility will begin commercial production in 2022.
This talk will address Miltenyi's LV platform and approach of simple technology assessment and minimal process development – for scalable and reproducible manufacturing that reduces time to clinic and subsequently, time to market. Join us to learn about standardizing the manufacture of unique cell therapies.
Robust LV platforms for technology enablement and GMP manufacturing
Getting support in bespoke clinical journeys
Process characterization and important considerations for commercial viability