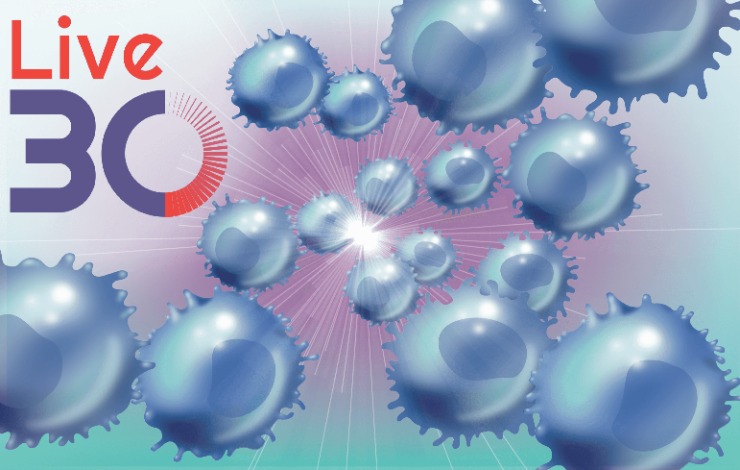 Live30 webinars are thirty-minute presentations designed to update you on the latest innovations, applications, and data in a fast yet interactive format.
As part of the innate immune response, NK cells respond to anything they perceive as "non-self", including malignant cells, and are powerful effector cells for adoptive immunotherapy of cancers. NK cells provide an anticancer response in an antigen independent manner, allowing them to be a potential "off the shelf" allogeneic therapeutic product. They have the potential to be safer, less expensive, and more effective than current engineered T-cell therapies.
One of the key challenges faced by the cell and gene therapy industry is the ability to expand and process NK cells using regulation-compliant reagents and closed manufacturing systems.
In this webinar, you will learn how Gibco™ CTS™ NK-Xpander™ Medium can expand functional primary human NK cells without the need for feeder cells to clinically relevant numbers. We will share scale up expansion data using various bioreactors, reassuring you that Gibco™ CTS™ NK-Xpander™ Medium can improve your already established workflow.
The Gibco™ CTS™ Rotea™ Counterflow Centrifugation System is a closed cell processing system developed for small-batch cell therapy manufacturing that can wash and concentrate the expanded NK cells, reducing risk and hands-on time during the manufacturing process.
Together, Gibco™ CTS™ NK-Xpander™ Medium and the CTS™ Rotea™ System enable the expansion and processing of clinically relevant numbers of functionally viable NK cells, filling a need for translational researchers to run phase I and II clinical trials.
The potential of NK cells as an "off the shelf" therapy
How to expand human NK cells in various scale up bioreactors for clinical applications with Gibco™ CTS™ NK-Xpander™ Medium
How the Gibco™ CTS™ Rotea™ System can be used for wash and concentration of Leukopaks and expanded NK cells