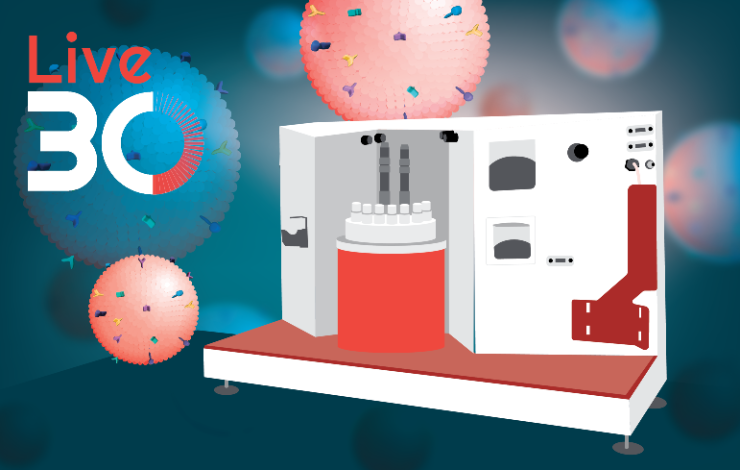 Live30 webinars are thirty-minute presentations designed to update you on the latest innovations, applications, and data in a fast yet interactive format.
The broad therapeutic potential of extracellular vesicles (EVs) has sparked great interest across the scientific community, and a growing number of EV-based clinical trials highlight the need for a scalable and efficient EV manufacturing process.
EVs are often produced using adherent-based cell cultures, which currently rely on 2D systems (e.g., plastic flatware), hollow-fiber bioreactors, and stirred-tank bioreactors with microcarriers. However, these systems pose challenges in terms of scalability, productivity, and continuous manufacturing.
Univercells Technologies' scale-X™ structured fixed-bed bioreactors offer a platform that can address these challenges for efficient adherent cell EV manufacturing. Scale-X bioreactors provide scalability, ranging from proof-of-concept studies to mid-scale clinical studies and large-scale clinical manufacturing.
In January 2022, Univercells Technologies entered a collaboration with RoosterBio Inc., a supplier of human mesenchymal stem cells (hMSCs), highly engineered media and hMSC, and EV Production Platforms for R&D and Clinical Manufacturing. This collaboration aimed to study the feasibility of using scale-X bioreactor systems as scalable platforms for continuous and high-capacity manufacture of hMSC-EVs in a reduced footprint.
The results presented in this study demonstrate proven success in the transfer of EV-producing hMSC cultures from 2D systems, providing more than a 2-fold increase in EV productivity compared to their flatware counterparts.
Join this webinar to gain insights into:
Overcoming challenges associated with 2D systems, hollow-fiber bioreactors, and stirred-tank bioreactors with microcarriers for efficient EV manufacturing process
A feasible platform for scalable, continuous, and high-capacity manufacture of xeno-free hMSC-EVs in a reduced footprint
How to achieve 2-fold increase in EV productivity
How a platform of high-quality working cell banks and highly productive media systems can enable the rapid production of exosomes without media changes
An approach for facilitating the rapid translation of an exosome product from development to clinical manufacturing