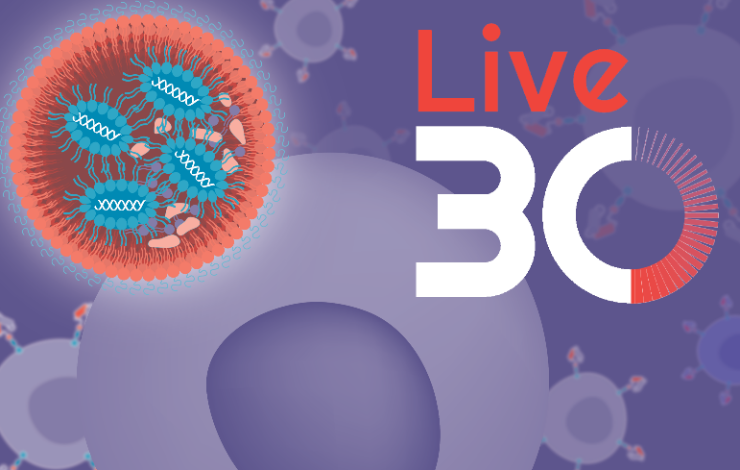 Live30 webinars are thirty minute presentations designed to update you on the latest innovations, applications and data in a fast yet interactive format.
T cells engineered with chimeric antigen receptors (CARs) has shown great success in the treatment of selected hematologic malignancies. However, approved CAR T-cell therapies are produced in a patient-specific basis by viral transduction, which is not only time-consuming and costly, but may also pose safety issues. Therefore, transfer of in vitro transcribed (IVT) CAR-encoding mRNA into T cells is being pursued as a promising and safe alternative to viral and non-viral DNA-based gene modification.
In this context, lipid nanoparticle (LNP)-based transfer of CAR-mRNA directly into T cells was compared with electroporation (EP), currently the state-of-the-art method for transient transfection used in clinical trials. For both methods, CAR-mRNA was optimized in terms of stability and immunogenicity. CAR-T cells generated with mRNA-LNPs outperformed EP-based CAR-T cells in terms of efficacy and persistence in vitro. Moreover, transient transfection of T cells with CAR-encoding mRNA-LNPs resulted in a CAR expression and lysis of tumor cells comparable to virally transduced CAR-T cells in vitro.
Our data provide a good explanation for the poor performance of EP-derived transient CAR-T cells used in current clinical trials and highlight mRNA-LNP-derived CAR-T cells as a next-generation transient approach for clinical trials.
CAR-expression is a matter of mRNA stability and immunogenicity
LNP-derived CAR-T cells outperform electroporated CAR-T cells in efficacy and persistency
LNP-derived CAR-T cells are comparable to virally transduced CAR-T cells in tumor lysis efficacy