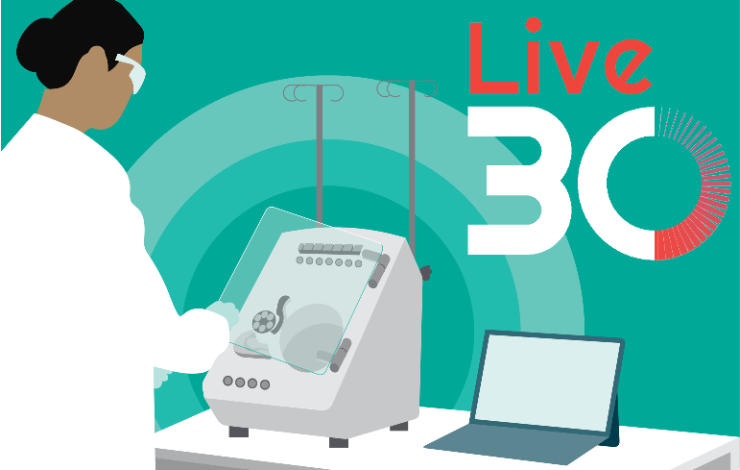 Live30 webinars are thirty minute presentations designed to update you on the latest innovations, applications and data in a fast yet interactive format.
The cell therapy industry is expanding steadily, with an increased need for and importance of delivering high-quality, affordable cell & gene therapies, ultimately helping increase patient access to life-saving therapies around the world. However, the manual processes commonly used in development and clinical trials are not cost-effective, transferable, or commercially viable. Alternative methods using more integrated systems often lack flexibility and generally suffer from poor capacity utilization. Closed, automated systems are particularly important in the processing of cell therapies for clinical and commercial manufacture as they provide the highest containment and product safety protection. They also have the added benefit of reducing capital expenditure and cutting process development times by being able to utilize one system from research through commercial manufacturing, enabling scalable cost-effective cell therapy development and manufacturing.
In this webinar, we discuss how the closed, automated Gibco CTS Rotea Counterflow Centrifugation System offers flexibility to custom-design protocols to fit specific needs of different applications of interest. For isolation of white blood cells (WBCs), leukopaks as well as whole blood can be used as starting material. The system is capable of using red blood cell (RBC) lysis buffer or density gradient reagents, while recovering 90% of WBCs, maintaining viability, and retaining less than 10% RBCs.
Additionally, the Rotea system can perform a wide range of buffer exchanges during the gene editing and expansion process including wash and concentrate into electroporation buffer, media exchange, or exchange into or out of cryopreservation medium. Again, these processes occur with >90% recovery and maintenance of viability and include options to decrease processing time by operating at higher flow rates of 100-165mL/min for larger scale cultures. Additionally, the counterflow centrifugation technology of the Rotea system yields extremely efficient washing and can consistently remove greater than 95% of original reagents within just a few minutes and only 70mL of buffer or medium. The Rotea system is also capable of processing different cell types with adjustments to protocol design including T cells, NK Cells, iPSC aggregates and more. Throughout all these varied applications and cell types, the Rotea system consistently provides high recovery and maintenance of cell viability.
In summary, the CTS Rotea Counterflow Centrifugation System offers flexibility to perform a wide range of cell processing applications in an automated closed system
Gain a greater understanding of the scope of the Rotea system applications within WBC isolation and buffer exchange
Learn about the comprehensive ability of the Rotea system to efficiently wash out many types of medium components
Understand how the Rotea system can be adapted to new applications by utilizing its user-controlled flexibility