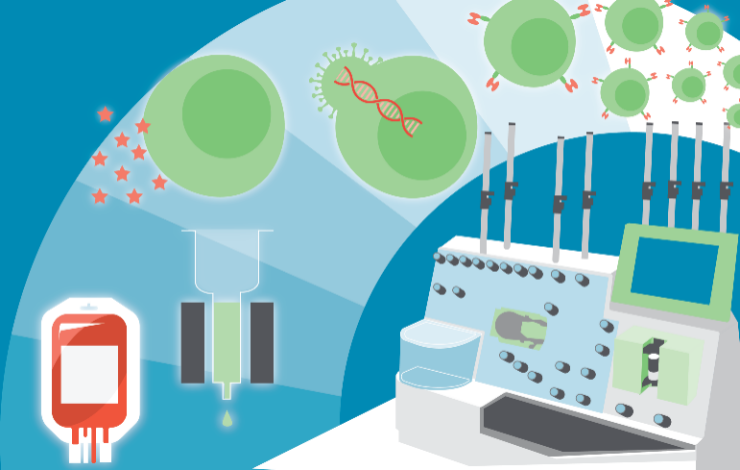 Clinical evidence has shown that natural killer (NK) cells hold the promise for successful adoptive immunotherapy for cancer. Regulated by their germ-line encoded activating and inhibitory receptors, NK cells can recognize and eliminate tumor cells rapidly without prior sensitization. To further enhance their anti-tumor efficacy, NK cells can also be modified by chimeric antigen receptors (CARs).
One of the major obstacles to use NK cells in immunotherapy is the lack of an efficient gene transfer method for primary NK cells. Viral gene delivery to primary NK cells has always been challenging and less efficient than for other cells of the hematopoietic system.
We developed a platform for the clinical grade manufacturing of CAR NK cells using baboon envelope glycoprotein pseudotyped lentiviral vectors for highly efficient transduction. Subsequently, we transferred this concept to an automated process for CAR NK cell generation under good manufacturing practice(GMP)-compliant conditions in a closed system by using the CliniMACS Prodigy® Instrument.
Besides this, many other challenges have caused industry participants to express concerns that the manufacturing shortage would threaten industry growth and lengthen time-to-market for these new types of living therapies. Automation, upscaling and streamlining manufacturing and QC processes are key to ensure future success in the clinic.
About the baboon envelope glycoprotein pseudotyped lentiviral vectors for highly efficient transduction of NK cells
Upscaling of clinical CAR NK cell manufacturing
Available optimized in-process and quality control for consistent CAR NK cell manufacturing