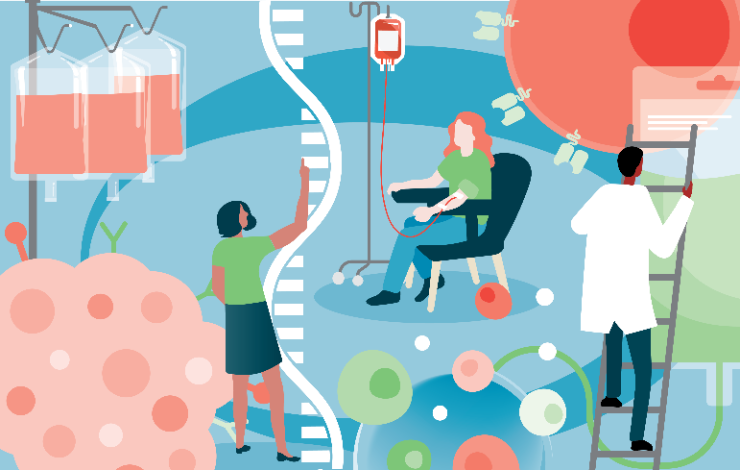 Immatics developed a proprietary tumor antigen targets discovery platform, XPRESIDENT®, which identifies novel tumor-specific targets and TCR candidates It also screens TCR candidates based on these targets against off-target toxicities in absence of reliable in vivo models. The ACTolog® approach utilizes the use of patient's own (autologous) T cells that are selected based on tumor targets identified by Immatics' XPRESIDENT® platform. The target specific T cells are identified and sorted from the overall patient T cell repertoire and expanded ex vivo before being infused back into the patient to fight the tumor. Up to 4 different antigen specific T cell products directed against several cancer targets that are confirmed to be expressed in the patient tumor biopsy are manufactured separately but concurrently before being infused.
In this live webinar Ali Mohamed, Vice President of CMC, Immatics US, Inc, will discuss the ACTolog® concept including the priming, isolation, sorting, and expansion of target specific T cells and present exemplary manufacturing and/or clinical data from the IMA101-101 trial utilizing the ACTolog® concept.
Miltenyi Biotec´s cell manufacturing platform provides investigators with workflow solutions that facilitate clinical translation of novel cell and gene therapies. In this live webinar, Megan Ciarlo, Technology and Applications Specialist, will provide insights into the MACSQuant® Tyto® Cell Sorter utilized by Immatics for sorting of T cells and discuss how new tools from Miltenyi Biotec facilitate reproducible flow cytometry-based IPC/QC processes.
Attendees will:
Which manufacturing steps are critical in achieving a successful manufacturing of autologous antigen specific T cells
What are the differences between endogenous antigen specific T cells products and engineered T cells like classical CAR or TCR T cells
How multiparametric and closed system cell sorting can be utilized in clinical application

How standardization tools help achieve reproducible QC/IPC of cellular products