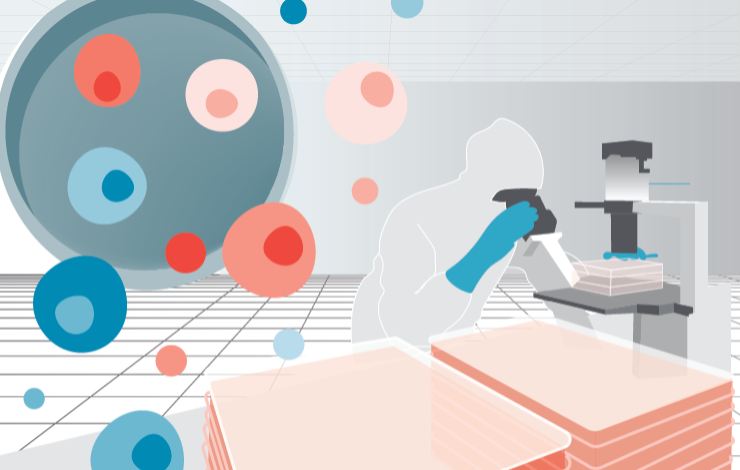 Human induced pluripotent stem cells (iPSCs) offer a promising and unlimited source of cells for curative cell replacement therapies in the treatment of devastating diseases such as Parkinson's disease (PD) and diabetes.
However, in order to commercialize these therapies to treat a large number of individuals at affordable costs, it is necessary to demonstrate the safety and efficacy of these therapies and industrialize the manufacturing process for iPSC-derived functional cells in a scalable and controlled manner.
This webinar provides a checklist of the major steps we have taken at Lonza towards the industrialization of iPSC-derived cell therapy products with focus on the development of a current Good Manufacturing Practice (cGMP)-compliant iPSC manufacturing process, characterization of iPSCs, development of scalable, computer-controlled bioprocessing system for expansion and / or directed differentiation of human iPSC using microcarrier-based and carrier-free strategies.
Key learning points include:
Identifying the main manufacturing challenges for generation, expansion, and directed differentiation of human iPSC-based cell therapies
Highlighting the current status of the field concerning scalability, cell culture format (2D versus 3D), automation, characterization of human iPSCs, and fairly complicated directed differentiation process
Tracking development of a cGMP-compliant iPSC manufacturing process that supports efficient and unbiased directed differentiation processes into all three main germ layers
Focusing on the development of a current Good Manufacturing Practice (cGMP)-compliant iPSC manufacturing process, establishing a comprehensive iPSC characterization platform, and development of unbiased proprietary cell culture system , L7TM that allows directed differentiation of iPSCs into all three embryonic germ-layers including ectoderm, endoderm, and mesoderm
Establishing an end-to-end platform allowing a large-scale expansion of high quality human iPSCs to support the required cell demand for various clinical indications
Demonstrating how we use a microcarrier-based technology to establish a closed, automated and scalable stirred tank bioreactor platform, capable of sustaining high fold expansion of high quality human iPSCs. We demonstrate that human iPSCs can be expanded, released from the microcarriers and concentrated in a fully closed manner. Harvested cells could be directly inoculated into a subsequent expansion or differentiation process, or cryopreserved as a high cell density seed bank for use in future, large-scale bioprocesses
Incorporating best bioprocessing practices for the development of carrier-free, scalable manufacturing processes for generation of high-quality iPSC derivatives under 3D computer-controlled bioreactor conditions
We report how we incorporated an innovative technique using computational fluid dynamics (CFD) modeling to effectively scale-up iPSC-based manufacturing processes in a serum-free and carrier-free 3 L computer-controlled bioreactor system in a relatively efficient manner. We also highlight a proof-of-concept directed differentiation process for aggregate-based iPSCs in 3 L bioreactor in a relatively efficient manner
Addressing one of the key quality characteristics of human iPSCs and evaluation of the long-term cellular and genomic stability of Lonza GMP compliant iPSC lines
We show that three human iPSC lines generated and banked five years ago using our proprietary cGMP manufacturing process can be thawed, expanded, characterized, and directly differentiated into the cells from three germ layers
---
The Lonza logo is a Lonza Ltd. Trademark