Translational cell & gene therapy collaborations: accelerating time to market
Cell Gene Therapy Insights 2016; 2(1), 111-114.
10.18609.cgti.2016.009
In recent years, cell and gene therapies have moved out of the realm of science fiction and now seem within reach. Indeed, they have made remarkable progress as novel medicines for effective, personalized treatment of some of today's most difficult diseases, extending the potential and promise of precision medicine. In addition to the not-insignificant scientific obstacles of delivering safe and effective treatments, there is also the challenge of cost efficient production and logistics that now needs to be addressed through scaling, automation, and continuous process improvement. These and other factors will determine the success of effectively translating these remarkable therapies from the clinic to the mainstream. At GE, we're working to bring all of these solutions together to help our customers focus on delivering the best possible therapies to market.
Published: Mar 21 2016
Complex problems require sophisticated solutions
While many of the lessons learned from the bio-production industry translate to cell and gene therapy applications, there are a few key areas that are substantially different in the way we manufacture these therapies. Autologous, or patient-specific therapies, likely represent the most unique challenge faced by therapy providers in their pursuit to industrialize cell therapy manufacturing. At scale, autologous therapies require a level of parallel processing that pushes the boundaries of current biomanufacturing systems. Many of these systems utilize tools adopted from other processes including blood banking, cell culture, and bioprocessing. At the same time, most cell therapy applications and procedures are detailed and specific enough to require their own built-for-purpose tools. The industry must continue to ask what innovations will help therapy providers to scale-out production to meet the demand for more and more batches yet do it in a manageable and predictable way.
The Process is the Product
In autologous therapies, each patient represents a production batch, and each patient presents their own differences. Given each patient batch produces similar, although different results translates to their need for a tightly regulated and highly reproducible production process. Without appropriate cell characterization technologies, the tight link between the process and the product makes adoption of new technologies increasingly difficult. Indeed, therapies developed from the outset with these subtleties in mind will likely spend far less time revising their processes to capture the benefits that these technologies can bring at scale (Figure 1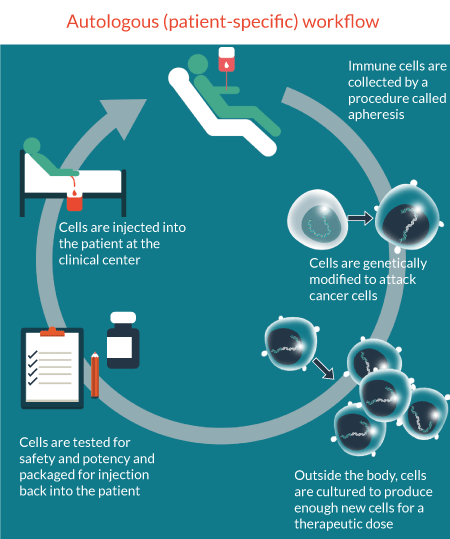 Autologus therapy workflow).
What can we innovate?
The development and manufacture of cell and gene therapies requires a complex web of suppliers, equipment, and human points of contact. Innovation will simplify some of these complexities in the form of:
Devices – Technologies that are physically closed, connected, easy to use, and increasingly automated will help to de-risk workflows.
Automation – Automation necessitates developing in-line feedback sensors and physically connecting equipment, as well as using data to improve processes, thus removing the need for repeated human intervention so resources are optimally allocated in the laboratory.
Reagents, diagnostic tools – Requires standardization of reagents to help drive consistency in production, which in itself will help minimize batch-to-batch variability.
Data management and software – Data entry and collection will be critical to managing the chain of custody for manufacturing batches during the complex, vein to vein, workflow, and gathering data to gain insights on how to make production continually more efficient
Laboratory logistics – Optimizing the use of manufacturing spaces will help therapy providers efficiently scale their operations to meet current demand and effectively plan for the future.
GE's Vision: Innovation through Collaboration
The days of developing technology independently from the market, then introducing it to the industry some years later, are past. At GE we understand that we should not create technology solutions alone. We're always looking to catalyze advancements in cell and gene therapy applications by fostering unique collaborative environments within the industry. We are focused on working together with therapy providers, technology companies, and other stakeholders to tackle the real-life challenges faced by the industry, and are working to bring our experience in industrialization to develop tangible solutions to help drive the industry forward.
GE has a long track-record in working collaboratively with a variety of industry stakeholders. For example, we've been engaged in an ongoing, multi-year research study with Karolinska University Hospital. In this study we're working to better define clinically-relevant technology and workflow needs for cell therapy applications. Additionally, GE is a member of the Centre for Commercialization of Regenerative Medicine, a Toronto-based consortium of pharmaceutical, device, tools, and cell therapy companies seeking to address key challenges in regenerative medicine production. And finally, GE continues to collaborate with therapy leaders in the cell and gene therapy space to develop the next generation of tools and technologies needed by them to realize their therapeutic mission.
Our hope is to extend our learning beyond solely the therapies currently in development, and to help standardize many of these technologies so new therapy providers can spend their time addressing new clinical challenges rather than the industrialization challenges faced today. We're bringing together the expertise of clinicians, scientists, regulators, payers, and therapy producers, to push innovation forward much more quickly than any one entity could alone.
The ultimate vision is to focus on our shared goal of bringing life-saving therapies to patients across the globe as quickly as possible.
Affiliation
Cindy Collins
General Manager, Life Sciences Lab Businesses, GE Healthcare

{{#if items.length}} {{else}}