Driving the viral vector expressway: speeding through AAV manufacturing
Cell & Gene Therapy Insights 2022; 8(10), 1371;
DOI: 10.18609/cgti.2022.198
Published: 17 November 2022
Watch this FastFacts to discover:
How the VirusExpress® 293 AAV Production Platform can help speed your gene therapy to patients
How high-through put screening has enhanced efficiency of the platform
How improvements to transfection and cell culture media impact performance
How our platform performs with GFP model virus in serotypes AAV2, AAV5, AAV6, and a customer's GOI and AAV9.
We hope you enjoyed this FastFacts video. You can also view the poster summary here.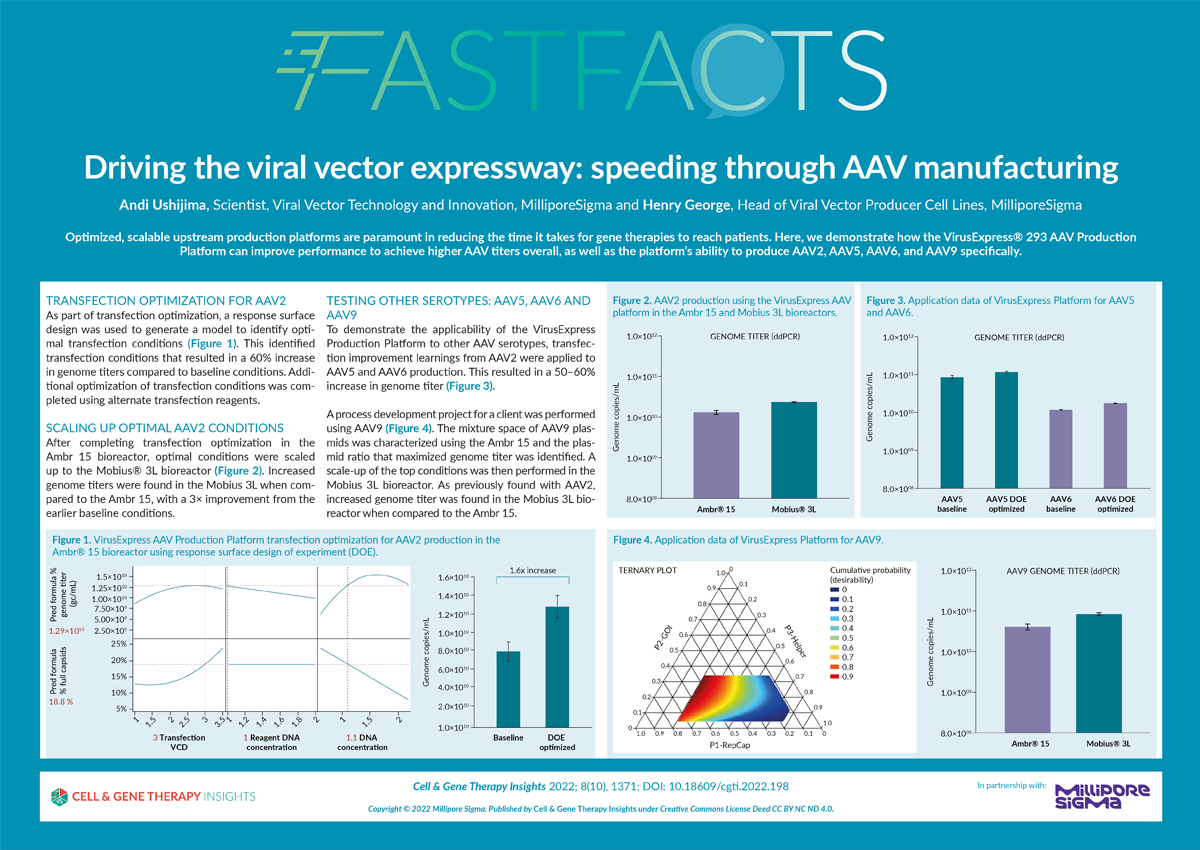 For more information on the VirusExpress® Platform, click here



Authorship & Conflict of Interest
Contributions: All named authors take responsibility for the integrity of the work as a whole, and have given their approval for this version to be published.
Acknowledgements: None
Disclosure and potential conflicts of interest: The authors declare that they have no conflicts of interest.
Funding declaration: The authors received no financial support for the research, authorship and/or publication of this article.
Article & copyright information
Copyright: Published by Cell and Gene Therapy Insights under Creative Commons License Deed CC BY NC ND 4.0 which allows anyone to copy, distribute, and transmit the article provided it is properly attributed in the manner specified below. No commercial use without permission.

Attribution: Copyright © 2022 Millipore Sigma. Published by Cell and Gene Therapy Insights under Creative Commons License Deed CC BY NC ND 4.0.

Article source: From a FastFacts video recorded on: Oct 19 2022; Publication date: Nov 17 2022.

























{{#if items.length}} {{else}}