Rapid translation of a cellular therapeutic from research to clinic
Cell & Gene Therapy Insights 2022; 8(3), 445
10.18609/cgti.2022.012
Cell therapies face regulatory and manufacturing challenges long before they are accessible to patients. Even as therapies prove effective and safe, raw material and manufacturing decisions made during early development can either stall progression or rapidly accelerate it. Utilizing scalable manufacturing processes and translation friendly raw materials during product development​ of MSCs and extracellular vesicle (EV) therapies will enable cell therapy developers to accelerate leading candidates into clinical trials, ultimately enabling more curative treatments to reach patients.
View the poster below or download the PDF here. Alternatively, you can listen to the entire webinar here.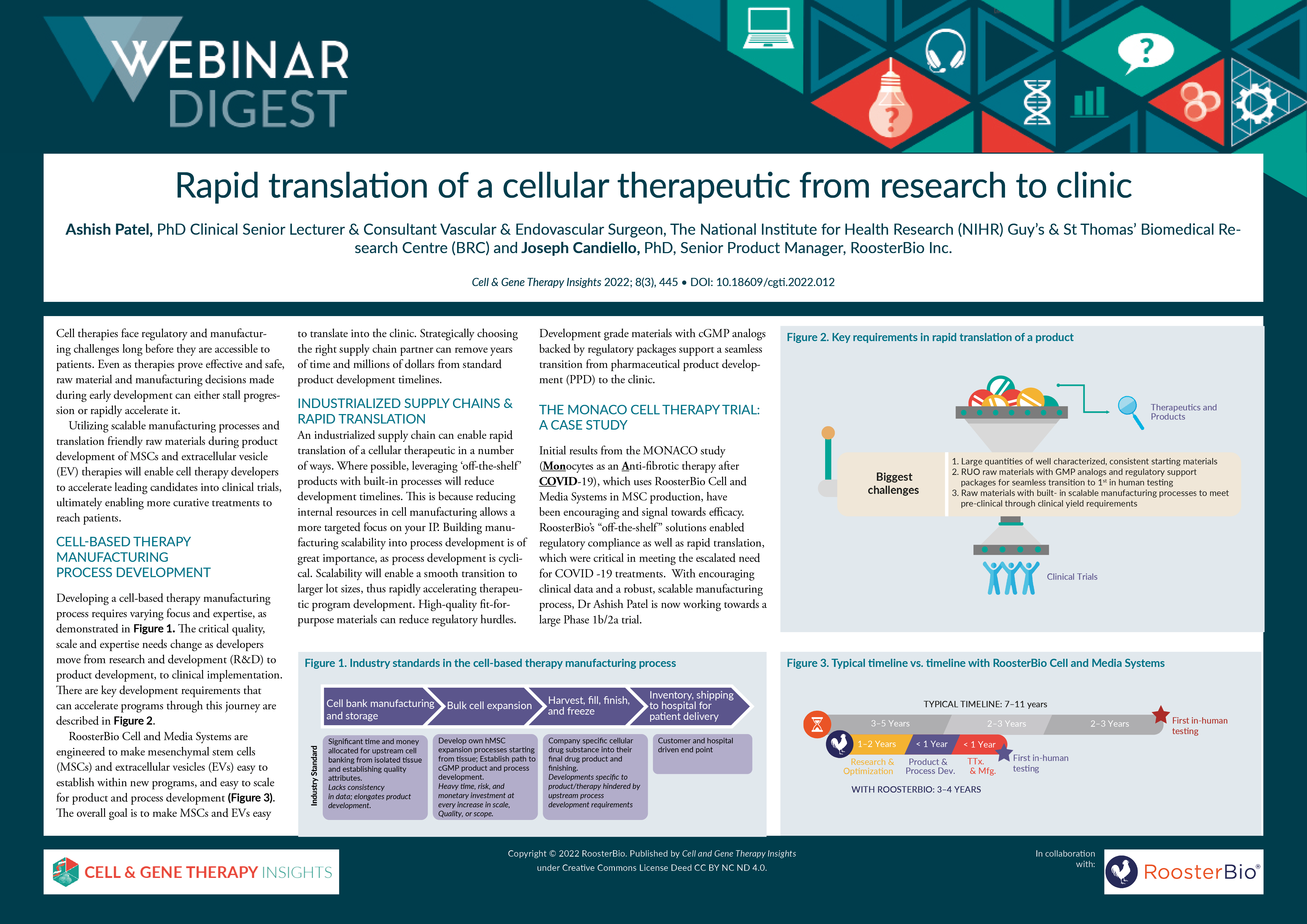 Authorship & Conflict of Interest
Contributions: All named authors take responsibility for the integrity of the work as a whole, and have given their approval for this version to be published.
Acknowledgements: None.
Disclosure and potential conflicts of interest: Candiello JE is an employee of Rooster Bio. The authors declare that they have no other conflicts of interest.
Funding declaration: The author received no financial support for the research, authorship, and/or publication of this article.
Article & copyright information
Copyright: Published by Cell and Gene Therapy Insights under Creative Commons License Deed CC BY NC ND 4.0 which allows anyone to copy, distribute, and transmit the article provided it is properly attributed in the manner specified below. No commercial use without permission.

Attribution: Copyright © 2022 Rooster Bio. Published by Cell and Gene Therapy Insights under Creative Commons License Deed CC BY NC ND 4.0.

Article source: Article based on a webinar which can be found here.

Webinar recorded: Mar 10 2022; Revised manuscript received: Apr 8 2022; Publication date: May 5 2022.

{{#if items.length}} {{else}}