Are you finishing strong in cell therapy manufacturing? Tackling your final fill and finish challenges with automation
Cell & Gene Therapy Insights 2021; 7(9), 1161
10.18609/cgti.2021.156
Published: 4 November 2021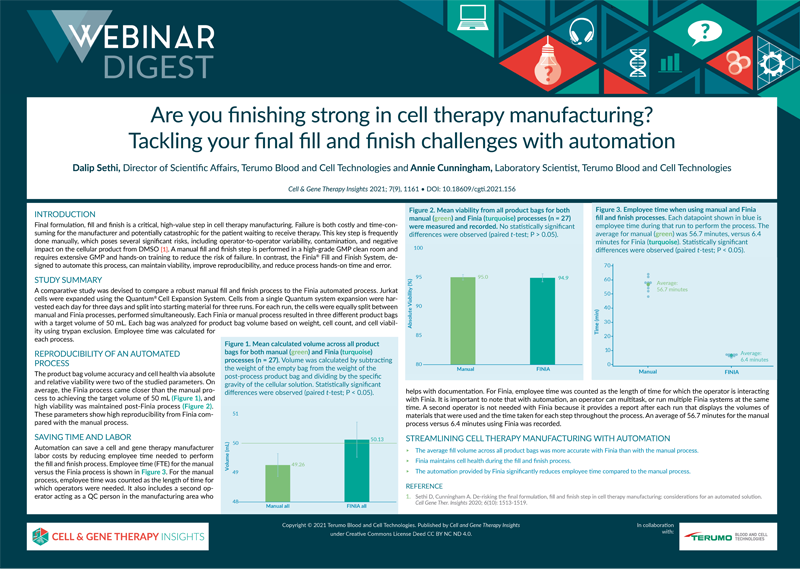 You can view the summary PDF here

Authorship & Conflict of Interest
Contributions: All named authors take responsibility for the integrity of the work as a whole, and have given their approval for this version to be published.
Acknowledgements: None.
Disclosure and potential conflicts of interest: The authors are both employees of Terumo Blood and Cell Technologies. D Sethi is an active member of ISCT-PPD committee and on the steering committee for Catapult PAT consortium. The authors declare that they have no other conflicts of interest.
Funding declaration: The author received no financial support for the research, authorship, and/or publication of this article.
Article & copyright information
Copyright: Published by Cell and Gene Therapy Insights under Creative Commons License Deed CC BY NC ND 4.0 which allows anyone to copy, distribute, and transmit the article provided it is properly attributed in the manner specified below. No commercial use without permission.

Attribution: Copyright © 2021 Terumo BCT. Published by Cell and Gene Therapy Insights under Creative Commons License Deed CC BY NC ND 4.0.

Article source: Article based on a webinar which can be found here.

Webinar recorded: Jul 21 2021; Revised manuscript received: Sep 30 2021; Publication date: Nov 9 2021.

{{#if items.length}} {{else}}