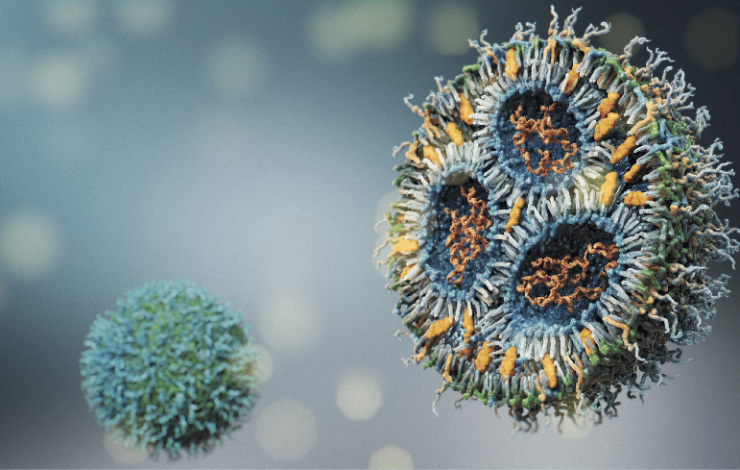 Lipid nanoparticles (LNPs) have emerged as a popular delivery vehicle for gene therapy and vaccines due to their ability to scale up and versatility to encapsulate various sizes of genetic material, amongst other factors. However, LNPs consisting of helper lipids, PEGylated lipids, and ionizable lipids can be susceptible to N-oxide-based impurities that can cause the loss of function of the genetic payload.
To ensure the safety and efficacy of LNP-based drugs, comprehensive characterization of these sophisticated molecules–the lipids and the genetic cargo–is paramount.
Distinguishing harmful N-oxides from other oxidation products is an analytical challenge for most existing technology, especially for ionizable lipids, as they come with various structures consisting of several potential oxidation sites. Furthermore, impurities affecting quality can be present at very low abundance.
In addition, the assessment of LNP encapsulation efficiency, integrity, purity, and stability of in vitro transcribed RNA, such as messenger RNA (mRNA), poses challenges due to its fragile nature, heterogeneity, and length.
In this webinar, Jane Luo, PhD, Senior Scientist, SCIEX will explore these challenges and describe a range of potential solutions, including real-world examples and case studies.
Learn why process-related lipid impurities are a concern for therapeutics and vaccines
Discover how to achieve detailed structural characterization of ionizable lipids and their impurities by leveraging more descriptive fragmentation, using the ionizable lipid ALC-0315 as an example
Explore how to break through limitations of intact mRNA analysis with intuitive, kit-based solutions that offer high-quality integrity and purity results for a wide range of sizes
Take control of determining mRNA-LNP encapsulation efficiency with an intuitive capillary electrophoresis workflow and achieve the highest resolution power